Bucket new Dragon Machinery Sand Spreading Bucket / Sand Spreader Bucket / Sand Spreader
Contact seller
+86.532.86.76.68.80
Send an email
Company Qingdao Promising International Co.,Ltd
Tianzhi Building, Qingdao
266555
QINGDAO
山东省
-
China
Characteristics - Bucket new Dragon Machinery Sand Spreading Bucket / Sand Spreader Bucket / Sand Spreader
Machinery equipment Bucket
Additional information Dragon Machinery Sand Spr...
Serial number
-
Notes
Functions and Applications:

This sand spreading bucket, sand spreader bucket or sand spreader is hydraulically driven and equipped with hydraulic valves to control the amount spread designed to handle a number of different types of spreading material, including sand, gravel and salt. With the bucket/hopper combination, one scoop and you are ready to go! The material is spread using a rotating roller. The adjustable speed auger moves material to the hopper opening where it drops on to the bi-directional rotating roller. The volume of spreading material is determined by the speed of the roller, which in turn is regulated hydraulically by a volume control valve. The material stays in the hopper unit until it's time to go, saving wear and tear on the conveyor.

Features:
1. Versatile use: For sand, salt chipping, gravel, peat or topsoil up to a graining of 100 mm.
2. Self and quick loading of the bucket: The hydraulically driven sand spreading bucket is fitted to a wheel-loader. Like with a normal wheel-loader-bucket the operator drives into the sand-heap and tilts the bucket backwards.
3. High working quality and spreading efficiency, with adequate rates: The spreading width of the sand spreader bucket ranges from 1,600 mm to 2,000 mm, a surface of 5,000 sqm can be spread per hour.
4. An absolutely one-man-device: The driver of the wheel-loader can do all operations by himself!
5. Innovative spreading technology: Spreads both damp and dry materials
6. Self-cleaning spreading roller
7. Highest Working Security
8. Alternatively mounted: Can be either front mounted or rear mounted

Parameters:
Sand Spreading Width: 1,600 - 2,000 mm; Volume: 0.7 - 1.0 CBM; Weight: 400 - 700kg

We have sand spreading buckets, sand spreader buckets or sand spreaders of various specifications that can meet your different capacity needs and requirements. Any spreading width, bucket volume, hopper size, color and design are available upon request.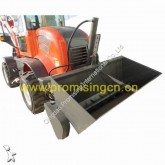 Interested in this ad?
Don't wait any longer, get in touch with the company Qingdao Promising International Co.,Ltd to know more right now !