Electric forklift new Dragon Machinery TKA10-30
Contact seller
+86.532.86.76.68.80
Send an email
Characteristics - Electric forklift new Dragon Machinery TKA10-30
Forklift Electric forklift
Equipment Dragon Machinery Forklift
Pallet forks
Sideshifter
Battery
Battery charger
Flashing light
Characteristics Dragon Machinery TKA10-30

Lifting height
3.0 metres
Maximum lifting capacity
1.0 Tonnes
Number of hours
5 hours
Number of wheels
3 wheels
Mast type
duplex
Tyres

Type of tyre
Full tyres
Condition and dimension of tyres
Wheel (Tyre) Type, Front/Rear: Solid Rubber/Polyurethane Front Wheel (Tyre): Φ305×127 Rear Wheel (Tyre): Φ267×127 Number of Wheels, Front/Rear (X=Driving): 2 / 1X
Additional information Dragon Machinery TKA10-30

Height
2.065 metres
Center of gravity of the weight
0.5 metres
Length of the forks
0.92 metres
Serial number
20141217TKA10-30
Notes
3-Wheel Counterbalanced Electric Forklift Truck
TKA Series 3-Wheel Electric Counterbalanced Forklift Truck
Three wheeled electric forklift truck, three wheeled electric counterbalance forklift, 3-wheel electric seated counterbalanced forklift, 3-wheel electric sit-down counterbalanced forklift, three-wheeled battery powered forklift, 3 wheeled counterbalanced electric forklift, 3 wheeled electric fork lift, 3 wheeled counterbalance forklifts, 3-wheel counterbalanced forklift truck, three-wheel electric forklifts, counterbalanced electric forklift truck, 3-wheel battery forklift, counterbalanced battery forklift

Rated Load: 1.0T - 1.5T
Lifting Height: 3.0m - 4.5m
Overall Length: 2265-2370mm
Overall Width: 915 - 1055mm
Fork Size: 920 x 100mm

Applications:
The unique design concept of three wheeled electric counterbalance forklift truck results in a compact, highly manoeuvrable truck suitable for a wide range of applications: such as storage/retrieval, block stacking and pallet transfer duties.

Features:
1. Safety device for neutral position to prevent electric forklifts from starting when it is in a neutral position to enhance its security;
2. Safety control for cornering, the electric pallet stacker will automatically slow down when cornering;
3. Safety Fuel Oil Shutoff Valve to guarantee the operator and goods in good condition;
4. Forward cylinder safety locks and variable wheelbase to ensure safety when forklift is running;
5. High strength overhead guard to protect the operator;
6. Drive units arranged in parallel to minimize power consumption;
7. Hydraulic power steering to reduce fatigue;
8. Ergonomic multi-functional operating handle and comfortable soft seat to enhance operator comfort and reduce fatigue.

Technical Specifications:
Model: TKA10
Power Type: Electric
Operation Type: Seated
Rated Load Capacity: 1000kg
Load Center: 500mm
Wheel (Tyre) Type, Front/Rear: Solid Rubber/Polyurethane
Front Wheel (Tyre): Φ305×127
Rear Wheel (Tyre): Φ267×127
Number of Wheels, Front/Rear (X=Driving): 2 / 1X
Mast Tilt Angle (Forward/Backward): 2/4deg.
Standard Lifting Height: 3000mm
Free Lift: /
Height of Mast Lowered: 2065mm
Height of Mast Extended: 3560mm
Height of Overhead Guard: 1965mm
Height from Seat to Overhead Guard: 1000mm
Ground Clearance, below Mast: 90mm
Ground Clearance, Center of Wheelbase: 90mm
Overall Length: 2265mm
Length to Fork Face: 1345mm
Wheelbase: 880~961mm
Front Overhang: 175mm
Overall Width: 915mm
Front Wheel Tread: 747mm
Fork Dimensions (L*W*T): 920*100*35mm
Fork Spread: 220~548mm
Aisle Width with 1000*1200 Pallet across Forks: 2690mm
Aisle Width with 800*1200 Pallet along Forks: 2515mm
Min. Turning Radius: 1170mm
Max. Travel Speed (Full-load/No-load): 6.5/7.5km/h
Lifting Speed (Full-load/No-load): 125/170mm/s
Max. Gradeability (Full-load/No-load): 8/10%
Drive Motor: 2.3kW (AC)
Lift Motor: 3.5kW (DC)
Battery: 24V/360Ah
Battery Weight: 295kg
Service Weight (with Battery): 1950kg
Type of Steering: Hydraulic
Service Brake: Hydraulic
Parking Brake: Mechanical

Note:
1. Technical specifications are for standard models only.
2. Other optional accessories and requirements are available upon request.
3. All specifications and design characteristics are subject to change without prior notice.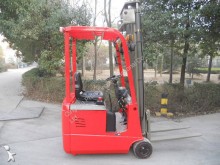 You are interested in this vehicle ?
Don't wait any longer, get in touch with the company Qingdao Promising International Co., Ltd. to know more right now !