Electric forklift new Dragon Machinery TK420-30 Full AC 4-Wheel Electric Forklift Truck with two AC drive motors
Contact seller
+86.532.86.76.68.80
Send an email
Characteristics - Electric forklift new Dragon Machinery TK420-30 Full AC 4-Wheel Electric Forklift Truck with two AC drive motors
Forklift Electric forklift
Characteristics Dragon Machinery TK420-30 Ful...

Maximum lifting capacity
3 Tonnes
Tyres

Condition and dimension of tyres
-
Notes
4-Wheel Counterbalanced AC Electric Forklift Truck Capacity 2000kg
Four wheeled electric forklift truck, four wheeled electric counterbalance forklift, 4-wheel electric seated counterbalanced forklift, 4-wheel electric sit-down counterbalanced forklift, four-wheeled AC powered electric forklift, 4 wheeled AC electric forklift, 4 wheeled electric fork lift, 4 wheeled counterbalance forklifts, 4-wheel counterbalanced forklift truck, four-wheel AC electric forklifts, counterbalanced electric forklift truck

Applications:
This outstanding 2000kg capacity four wheeled electric forklift truck with two AC drive motors offers a comprehensive selection of specifications to meet the hugely varying requirements of every type of industrial and commercial application, such as manufacturing, warehousing, distribution and bottling. From dock to stock, 4-wheel counterbalanced AC electric rider forklift trucks give your operators unmatched confidence and meet your specific materials handling requirements.

Features:
1. Low battery mounting position to make the forklift have better stability and low center of gravity;
2. Waterproof design of all electric connectors to prevent them from short-circuiting to make the forklift more durable;
3. Full hydraulic power-assisted steering system to make the forklift truck easier to steer and energy saving;
4. Airtight wet disc brake system to efficiently reduce the maintenance costs of the forklift;
5. Safety control for cornering, the electric pallet stacker will automatically slow down when cornering to avoid the ejection of operator and goods from the vehicle due to high speed;
6. Advanced regenerative braking to guarantee low-energy consumption and increased efficiency;
7. Integrated framework with better strength and rigidity to make the forklifts with better durability;
8. Ergonomic design: comfortable seat, ample inner room, wide angle central rearview mirror and wide view mast.

Technical Specifications:
Power Type: Electric
Operation Type: Seated
Rated Load Capacity: 2000kg
Load Center: 500mm
Wheel (Tyre) Type: Polyurethane Solid Tyre
Front Wheel (Tyre): 200/50-10
Front Rim: 6.5F-10
Rear Wheel (Tyre): 16X6-8
Rear Rim: 4.33R-8
Number of Wheels, Front/Rear (X = Driving): 2X / 2
Mast Tilt Angle (Forward/Backward): 6/7deg.
Standard Lifting Height: 3000mm
Free Lift: /
Height of Mast Lowered: 2120mm
Height of Mast Extended: 3570mm
Height of Mast Extended (with Backrest): 3960mm
Height of Overhead Guard: 2050mm
Height from Seat to Overhead Guard: 918mm
Ground Clearance, below Mast: 142mm
Ground Clearance, Center of Wheelbase: 95mm
Overall Length: 3225mm
Length to Fork Face: 2155mm
Wheelbase: 1470mm
Front Overhang: 404mm
Overall Width: 1160/1066mm
Front/Rear Wheel Tread: 950/865mm
Fork Dimensions (L*W*T): 1070*122*40mm
Fork Spread: 260~1040mm
Aisle Width with 1000*1200 Pallet across Forks: 3634mm
Aisle Width with 800*1200 Pallet along Forks: 3434mm
Min. Turning Radius: 1960mm
Max. Travel Speed (Full-load/No-load): 11.2/14km/h
Lifting Speed (Full-load/No-load): 220/310mm/s
Max. Gradeability (Full-load/No-load): 10/15%
Drive Motor: 4.5kW (AC) x2
Lift Motor: 8.6kW (AC)
Battery: 48V/600Ah
Battery Weight: 945kg
Service Weight (with Battery): 3980kg
Type of Steering: Hydraulic
Service Brake: Hydraulic
Parking Brake: Mechanical

Note: All specifications and design characteristics are subject to change without prior notice.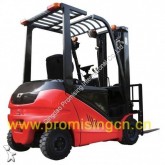 Interested in this ad?
Don't wait any longer, get in touch with the company Qingdao Promising International Co.,Ltd to know more right now !