Grapple new Dragon Machinery Grass Grapple / Hay Grab / Straw Grab / Sugar Cane Grapple / Manure Fork / Hay Fork
Contact seller
+86.532.86.76.68.80
Send an email
Characteristics - Grapple new Dragon Machinery Grass Grapple / Hay Grab / Straw Grab / Sugar Cane Grapple / Manure Fork / Hay Fork
Machinery equipment Grapple
Main information

Website ref. :
983146
Bodywork
Grapple
Make

Dragon Machinery

Model
Grass Grapple / Hay Grab / Straw Grab / Sugar Cane Grapple / Manure Fork / Hay Fork
Condition
new
Year
--
Country
China
Manufacturer
Dragon Machinery
Additional information Dragon Machinery Grass...

Serial number
-
Notes
hay grab, straw grab, manure fork, hay fork, grass grapple, sugar cane grapple, straw forks, manure grab, sugar cane grab, hay grapple, loader grass grab, wheel loader grass grapple, sugar cane grapple for loader, hay grapple for wheel loader, straw grapple for loaders, front loader grass forks, hay grab for front loader, loaders use straw grapple, sugar cane grab for loaders, manure forks for loaders, manure grapple for loaders

Functions and Applications:
Specially designed for handling awkward materials, such grass, hay, straw, brush or sugar cane, this grapple will increase your productivity, especially for sugar cane, because efficiency is the essential during the harvest of sugar cane. It features a tough, rugged design and is ideal for large, bulky loads. With a straw grapple, you can carry a maximum amount of material every pass - reducing fuel cost and cutting down on machine wear and tear.
This multiple functional grass grapples and hay grabs are widely used in recycling and utilizing of the crop stalks, such as wheat, corn, sorghum and soybean, etc. and are especially applied in papermaking, bio-energy, and loading, transportation, storing and stacking of cotton and sugar cane, etc. They are time and labor saving, safe, environmental friendly and efficient and get favorable comments from all customers.

Features:
1. Perfect for handling large amounts of fine material such as grass, hay, brush, logging debris, trash, and more;
2. High capacity design enables you to carry the maximum amount of material per load;
3. Dual cylinder design provides unmatched gripping power.
4. Tough but lightweight construction lets you carry more, while your loader works less - cutting fuel costs and costly machine wear and tear.

We know the success of your business depends on working quickly and efficiently. That's why we build attachments with quality, reliability and features that help you get more from your equipment. When you choose one of our attachments, you're investing in reduced downtime, higher productivity, and more work accomplished. And because we offer attachments for everything from snow removal to landscaping, you can count on Promising Machinery for all your attachments.

Parameters:
Model LG001
Width: 820mm; Length: 980mm; Height (Closed): 760mm; Tine Length: 550mm; Rotating of Tine: 65 degree; SWL: 600kg; Weight: 240kg
Model LG002
Width: 970mm; Length: 1300mm; Height (Closed): 950mm; Tine Length: 700mm; Rotating of Tine: 70 degree; SWL: 800-1200kg; Weight: 300kg
Model LG003
Width: 1100mm; Length: 1400-1500mm; Height (Closed): 1000mm; Tine Length: 800mm Rotating of Tine: 70 degree; SWL: 1500kg; Weight: 330kg
Model LG004
Width: 1200mm; Length: 1500mm; Height (Closed): 1050mm; Tine Length: 900mm Rotating of Tine: 75 degree; SWL: 1800-2000kg; Weight: 350kg
Number of Tines (upper tine/lower tine): 3/4 and 4/5.
Other types of tines are available upon request.

We have grass grapple of various specifications that can meet your different application or loader needs. Any specifications and designs are available upon request.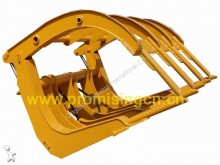 Interested in this ad?
Don't wait any longer, get in touch with the company Qingdao Promising International Co.,Ltd to know more right now !