Contact seller
+86.532.86.76.68.80
Send an email
Characteristics - Petrol forklift new Dragon Machinery CPYD20
Forklift Petrol forklift
Equipment Dragon Machinery Forklift
Pallet forks
Sideshifter
Flashing light
Characteristics Dragon Machinery CPYD20

Lifting height
3 metres
Maximum lifting capacity
2.0 Tonnes
Number of hours
5 hours
Number of wheels
4 wheels
Mast type
duplex
Tyres

Type of tyre
Pneumatic tyre
Condition and dimension of tyres
Brand New Pneumatic Tyres Tyre Model – Front: 7.00-12-12PR Tyre Model – Rear: 6.00-9-10PR
Additional information Dragon Machinery CPYD20

Height
2.12 metres
Center of gravity of the weight
0.5 metres
Free lift
0.16 metres
Length of the forks
1.07 metres
Serial number
20141111CPYD20
Notes
2 ton LPG fork lift, 2 ton propane fork lift, 2 ton gasoline/LPG forklift, 2 ton LPG forklift truck, 2 ton gasoline forklift truck, 2 ton dual-fuel forklift, 2 ton LPG forklift, 2 ton gasoline forklift, 2.0T gas forklift, 2.0T gasoline forklift, 2.0T LPG forklift, 2.0T propane forklift, 2T dual-fuel forklift truck, 2T LPG forklift truck, 2T gasoline forklift truck, 2T propane forklift truck, gasoline forklift capacity 2000kg, LPG forklift capacity 2000kg, propane forklift capacity 2000kg, 2.0 ton capacity gasoline forklift truck, 2.0 ton capacity LPG forklift truck, 2.0 ton propane forklift truck, 2.0T gasoline fork lift truck, 2.0T LPG fork lift truck, 2.0T propane fork lift truck, 2.0T dual-fuel fork lift truck, 2.0T gas fork lift truck, 2.0T counterbalanced gasoline forklift truck, 2.0 ton counterbalance LPG forklift, 2 ton counterbalanced dual-fuel forklift, 2T counterbalance propane forklift

Features:
1. Good Power Performance Engine;
The engine has good power performance, runs stably and has features such as low noise, low vibration and low fuel consumption, etc.
2. Low Carbon Emission;
The fuel of LPG achieves low carbon emission, which plays an active role in environmental protection.
3. Precise Design and Stringent Test;
All parts for the "fuel element" adopt the OEM products from IMPCO USA, so the performance is guaranteed by precise design and stringent test. Meanwhile, because LPG has higher ignition point than gasoline and bigger gasification potential, that is having self-cooling function, therefore the safety is greatly reinforced.
4. Easy, Reliable and Comfortable Operating;
Using gasoline or LPG as the fuel, the conversion between these two fuels is easy and reliable, and the operation is comfortable.
5. 24 /7 Work;
Equipped with big capacity fuel/gas tank, this forklift is fit for 24/7 work.

Technical Specifications:
Power Type: Gasoline/LPG
Rated Capacity: 2000kg
Load Center: 500mm
Lifting Height: 3000mm
Mast Tilt Angel (F/R): 6/12Deg
Front Overhang: 465mm
Wheel Base: 1600mm
Wheel Tread (F/R): 960/970mm
Dead Weight: 3350kg
Free Lift Height: 160mm
Min. Turning Radius: 2170mm
Min. Ground Clearance - Under Mast: 105mm
Min. Ground Clearance - Wheelbase Center: 150mm
Service Brake: Hydraulic-Foot Pedal
Parking Brake: Mechanical-Hand Lever
Lifting Speed (full-load): 440mm/s
Lowering Speed: Full-load < 600mm/s, No-load > 300mm/s
Travel Speed (no-load): 19km/h
Max. Gradeability (full-load): 20%
Max. Tractive Force (full-load/no-load): 15/12kN
Weight Distribution with load (F/R): 4700/650kg
Weight Distribution without Load (F/R): 1270/2080kg
Engine Model: K21
Engine Manufacturer: NISSAN
Engine Rated Power: 31.2kW/2250rpm
Max. Torque/rpm of Engine: 143.7N.m/1600rpm
Engine Displacement: 2.065L
Battery Voltage: 12V
Battery Capacity: 100Ah
Gearbox Transmission Type: Hydraulic torque converter
Gear Shift (F/R): I/I
Tyre Type: Pneumatic Tyres
Tyre Model – Front: 7.00-12-12PR
Tyre Model – Rear: 6.00-9-10PR
Fork Dimension: 40x125x1070mm
Overall Length (Without Fork): 2480mm
Overall Width: 1150mm
Overall Height Mast Extended: 4030mm
Overall Height Mast Lowered: 2000mm
Overall Height Overhead Guard: 2120mm

Note:
1. Technical specifications are for standard models only.
2. Other optional accessories, functions and requirements are available upon request.
3. All specifications and design characteristics are subject to change without prior notice.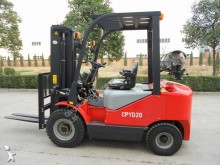 You are interested in this vehicle ?
Don't wait any longer, get in touch with the company Qingdao Promising International Co., Ltd. to know more right now !