Stand-on pallet truck new Dragon Machinery TE20 Electric
Contact seller
+86.532.86.76.68.80
Send an email
Company Qingdao Promising International Co., Ltd.
24th Floor Tianzhi Building Qingdao Free Trade Zone
266555
Qingdao
山东省
-
China
Characteristics - Stand-on pallet truck new Dragon Machinery TE20 Electric
Pallet truck Stand-on
Additional information Dragon Machinery TE20

CO2 emissions
-
Height
1.33 metres
Center of gravity of the weight
0.6 metres
Free lift
0.12 metres
Length of the forks
1.15 metres
Serial number
20150127TE20
Characteristics Dragon Machinery TE20

Energy
Electric
Lifting height
0.12 metres
Maximum lifting capacity
2.0 Tonnes
Number of hours
5 hours
Equipment Dragon Machinery pallet truck
Characteristics Dragon Machinery TE20

Mast type
-
Notes
Electric Pallet Truck
2.0T capacity Electric Walkie/Rider Pallet Truck with AC driving system and pedal
Electric walkie/rider pallet truck, electric rider pallet handler, electric stand-on pallet truck, electric rider pallet truck, battery pallet truck, battery powered pallet handler, electric straddle pallet truck, electric operated pallet truck, electric pallet truck, rider powered pallet truck, powered rider pallet truck, stand-on powered pallet truck, electric pallet handler, electric rider operated pallet truck

Rated Load: 2.0T
Max. Lifting Height: 120mm
Overall Length: 2310mm
Overall Width: 730mm
Fork Size: 1150 x 175mm

Applications:
This 2000kg capacity electric walkie/rider pallet truck and 2000kg capacity electric rider pallet handler provides the optimum solution for applications requiring rapid internal pallet transfers, marshalling duties and lorry loading/unloading. The electric rider operated pallet truck is suitable for a variety of applications, including order picking, long distance transporting and loading/unloading trailers.

Features:
1. Safety control for cornering, the electric pallet truck will automatically slow down when cornering to avoid the ejection of operator and goods from the vehicle due to high speed;
2. Anti-roll back function to prevent the electric pallet truck from uncontrolled travel speed or rolling back on ramps when loading and unloading;
3. Low steel chassis surround to protect the operator's feet;
4. High-strength frame design to suit the tough workplaces and ensures longer service life;
5. Vertical motor to ensure convenient inspection and maintenance of motor and brake providing much better maintainability than horizontal motor;
6. Ergonomic multi-functional operating handle to enhance operator comfort and reduce fatigue;
7. Advanced regenerative braking to guarantee low-energy consumption and increased efficiency.
8. Excellent performance of getting in and out of empty pallet to greatly increase the operation efficiency;
9. Emergency power-off switch to protect the electric pallet truck from damage.

Technical Specifications:
Model: TE20
Power Type: Electric
Operation Type: Stand-on
Rated Load Capacity: 2000kg
Load Center: 600mm
Wheel (Tyre) Type: Polyurethane Solid Tyre
Rear (Driving) Wheel: Ø215*75mm
Front (Load) Wheel: Ø80*70mm
Auxiliary (Balance) Wheel: Ø100*40mm
Number of Wheels, Front/Rear (X=Driving): 4 / 1X+2
Max. Height of Handle from Ground: 1330mm
Max. Lifting Height of Fork: 120mm
Min. Ground Clearance of Fork: 85mm
Overall Length (with/without Pedal): 2310/1907mm
Wheelbase: 1468mm
Fork Dimensions (L*W*T): 1150*175*75mm
Fork Spread: 685mm
Overall Width: 730mm
Front/Rear Wheel Tread: 510/500mm
Min. Turning Radius (with/without Pedal): 2157/1762mm
Pedal Width: 547mm
Aisle Width with 800*1200 Pallet along Forks (with/ without Pedal): 2812/2417mm
Aisle Width with 1000*1200 Pallet across Forks (with/without Pedal): 2902/2507mm
Lifting Speed (Full-load/No-load): 26/34mm/s
Lowering Speed (Full-load/No-load): 34mm/s
Max. Travel Speed (Full-load/No-load): 4.0/5.8km/h
Max. Gradeability (Full-load/No-load): 6/10%
Service Weight (with Battery): 630kg
Batter: 24V/210Ah
Charger: 24V/20A
Drive Motor: 1.5kW (AC)
Lift Motor: 2.2 kW (DC)
Battery Weight: 200kg
Type of Steering: Mechanical
Brake: Electromagnetic

Note:
1. Technical specifications are for standard models only.
2. Other optional accessories, functions and requirements are available upon request.
3. All specifications and design characteristics are subject to change without prior notice.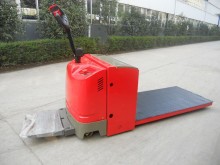 You are interested in this vehicle ?
Don't wait any longer, get in touch with the company Qingdao Promising International Co., Ltd. to know more right now !