Stand-on pallet truck new Dragon Machinery 1.0T Capacity Electric Counterbalance Pallet Stacker TBB10S
Contact seller
+86.532.86.76.68.80
Send an email
Characteristics - Stand-on pallet truck new Dragon Machinery 1.0T Capacity Electric Counterbalance Pallet Stacker TBB10S
Pallet truck Stand-on
Characteristics Dragon Machinery 1.0T Capacit...

Maximum lifting capacity
1 Tonnes
Equipment Dragon Machinery pallet truck
Notes
Applications:
Electric Counterbalance Pallet Stacker or Battery Counterbalance Stacker Truck is applicable to the stacking works in the narrow aisles and limited spaces and is the ideal tools for high-rack warehouses, supermarkets and workshops for pallet stacking and block stacking or to handle material horizontally and load/unload goods on single or double deck pallet.

Features:
1. Vertical Drive system to save the energy and have long time working;
2. Regenerative braking function to reduce the operation cost;
3. Speed limit for high position to avoid the possibility of the overturning of goods when electric pallet stacker runs in high speed while goods are in a high position;
4. Pedal with anti-vibration function to ensure comfortable working condition and reduce the operator's feeling of fatigue;
5. Reinforced mast to prevent the mast from deforming and enable the electric pallet stacker with counterbalance to lift goods smoothly;
6. Ergonomic multi-functional operating handle to enhance operator comfort and reduce fatigue.

Technical Specifications:
Power Type: Electric
Operation Type: Walkie/Rider
Rated Load Capacity: 1000kg
Load Center: 500mm
Wheel (Tyre) Type: Polyurethane
Front (Load) Wheel: Φ267*114mm
Rear (Driving) Wheel: Φ215*75mm
Auxiliary (Balance) Wheel: Φ150*50mm
Number of Wheels Front/Rear (X=Driving): 2 / 1X+2
Mast Type: Duplex
Mast Tilting Angle (Fwd/Bwd): 3/5deg.
Standard Lifting Height: 2500mm
Overall Height of Mast Lowered: 1837mm
Overall Height of Mast Extended: 3068mm
Overall Height of Mast Extended (with Backrest): 3355mm
Min. Ground Clearance – Master: 80mm
Overall Length (with/without pedal): 3140/2720mm
Length to Fork Face (with/without pedal): 2070/1650mm
Wheelbase: 1245mm
Front Overhang: 166mm
Overall Width (Front/Rear): 1010/900mm
Front/Rear Wheel Tread: 890/724mm
Fork Dimensions (L*W*T): 1070*100*35mm
Fork Spread: 220~660mm
Aisle Width with 1000*1200 Pallet across Forks (with/without pedal): 3410/2990mm
Aisle Width with 8000*1200 Pallet along Forks (with/without pedal): 3370/2950mm
Min. Turning Radius (with/without pedal): 1915/1495mm
Max. Travel Speed (Full-load/No-load): 4.0/5.8km/h
Lifting Speed (Full-load/No-load): 70/125mm/s
Max. Gradeability (Full-load/No-load): 8%/10%
Battery: 24V/210Ah
Charger: 24V/30A
Drive Motor(Standard/Optional): 1.5kW (AC) / 1.2kW (DC)
Lift Motor: 2.0kW (DC)
Battery Weight: 200kg
Service Weight: 1835kg
Type of Steering: Mechanical
Service Brake: Electromagnetic
Operation Type of Service Brake: Mechanical
Parking Brake: Electromagnetic


Note: 1. Technical specifications are for standard models only.
2. Other optional accessories, functions and requirements are available upon request.
3. All specifications and design characteristics are subject to change without prior notice.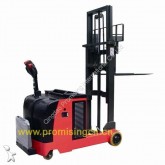 Interested in this ad?
Don't wait any longer, get in touch with the company Qingdao Promising International Co.,Ltd to know more right now !