Track loader new Dragon Loader Model ZL50F Wheel Loader
Contact seller
+86.532.86.76.68.80
Send an email
Company Qingdao Promising International Co.,Ltd
Tianzhi Building, Qingdao
266555
QINGDAO
山东省
-
China
Characteristics - Track loader new Dragon Loader Model ZL50F Wheel Loader
Loader Track loader
Equipment Dragon Loader loader

Type of fast hitch
-
Characteristics Dragon Loader Model ZL50F Whe...

Weight
-
Power
-
Characteristics Dragon Loader Model ZL50F Whe...

Number of hours
-
Additional information Dragon Loader Model ZL50F...

Motor info
-
Serial number
-
CO2 emissions
-
Bucket

Number of buckets
-
Bucket specifications
-
Motor

Engine range
-
Engine make
-
Tier norm
-
Stage norm
-
Engine power
-
Notes
Features:
1. Adopting full hydraulic pilot control (joystick) to make the operation of this 5T wheel loader lighter and more flexible and the effect of micro-action excellent.
2. Adopting efficient power shift transmission gearbox to have high transmission efficiency and good reliability.
3. Adopting dual-pump flow converging working system and coaxial flow amplifying steering gear to make the effect of energy saving more significant.
4. Equipped with bucket automatic leveler to make the operation more convenient and reduce the driver's labor intensity.
5. Adopting high power WEICHAI STEYR WD615G220 turbocharged engine perfectly fitted with reinforced & extended chassis and hydraulic system to make the 5.0T wheel loader have more reliable performance, more efficient and fuel saving.
6. Adopting single tilting cylinder with Z-shaped tilting mechanism to achieve huge digging force.
7. Adopting the drive axle suitable for heavy duty working conditions that has large module of gear, is designed for big workload and harsh working conditions and has long durability.
8. Adopting reinforced, large space and panoramic view cab and spring damping quality sofa seat made by German technology to make the operation more comfortable and safer.
Main Technical Parameters:
1. Rated Load: 5000 kg
2. Total Weight: 17100 kg
3. Rated Bucket Capacity: 3.0 CBM
4. Max. Tractive Force: 152 KN
5. Max. Breakout Force: ≥ 170 KN
6. Max. Gradeability: 30°
7. Max. Dumping Height: 3150 mm
8. Max. Dumping Reach: 1250 mm
9. Raising Time: 5.95 ± 0.2 s
10. Total Cycle Time: 10.95 ± 0.5 s
11. Overall Dimension (L x W x H) : 7920*3050*3400 mm
12. Min. Turning Radius: 6640 mm
13. Engine Model: WEICHAI STEYR WD615G.220
14. Engine Type: In-line, Water Cooling, Dry Cylinder Fuel Injection Diesel Engine
15. No. of Cylinder-Bore/Stroke of Engine: 6-126×130 mm
16. Engine Rated Power: 162 kW – 2400 rpm
17. Engine Max. Torque: 860 N.m
18. Engine Min. Fuel-consume Ratio: ≤ 215 g/kW•h
19. Transmission System: YJ375-X Hydraulic Torque Converter
20. Gearbox Mode: Countershaft Spur Gear Constant-Mesh Power Shift
21. Gear Shift: 4Forward Shift, 4 Reverse Shift
22. Max. Speed: 38 km/h
23. Drive Axel Main Reducing Mode: Bevel Gear Grade 1 Reduction
24. Drive Axel Hub Reduction Mode: Planetary Reduction Grade 1
25. Wheel Tread: 2250 mm
26. Wheel Base: 3200 mm
27. Min. Ground Clearance: 450 mm
28. Hydraulic System Working Pressure: 18 Mpa
29. Fuel Tank Capacity: 300 L
30. Bucket Automatic Leveler: Yes
31. Service Brake: Foot Pedal Vacuum Booster, Air over Hydraulic Caliper Disc Brake on 4 Wheels
32. Parking Brake: Hand Lever Flexible Shaft Controlled Disc Brake
33. Tyre Type Specification: 23.5-25-20PR
34. Front Tyre Pressure: 0.4 Mpa
35. Rear Tyre Pressure: 0.35 Mpa
We have various models of compact wheel loaders that can meet your different capacity needs. Any colors are available upon request.
All specifications and design characteristics are subject to change without prior notice.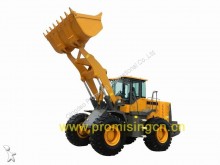 You are interested in this vehicle ?
Don't wait any longer, get in touch with the company Qingdao Promising International Co.,Ltd to know more right now !