Wheel loader new Dragon Loader n/a Model ZL18F Wheel Loader
Contact seller
+86.532.86.76.68.80
Send an email
Company Qingdao Promising International Co.,Ltd
Tianzhi Building, Qingdao
266555
QINGDAO
山东省
-
China
Characteristics - Wheel loader new Dragon Loader n/a Model ZL18F Wheel Loader
Loader Wheel loader
Equipment Dragon Loader loader

Type of fast hitch
-
Characteristics Dragon Loader Model ZL18F Whe...

Weight
-
Power
-
Characteristics Dragon Loader Model ZL18F Whe...

Number of hours
-
Additional information Dragon Loader Model ZL18F...

Motor info
-
Serial number
-
CO2 emissions
-
Bucket

Number of buckets
-
Bucket specifications
-
Motor

Engine range
-
Engine make
-
Tier norm
-
Stage norm
-
Engine power
-
Notes
Applications:
4WD ROPS Wheel loader ZL18F is mainly used in road construction, urban construction, environment cleaning, coal yard, sand and stone quarry, small and medium civil engineering, railway station, wharf, freight yards, warehouse, etc. to shovel and load or move earth, sand and stone, coal cinder, trash and other bulk materials. 1.8T 4WD wheel loader can be used together with 3-5 tons tractor and truck to load and unload materials and also can be used to carry out the works such as bulldozing, shoveling and digging, dragging, stacking, lifting and traction, etc.
Features:
Enclosed cab with comfortable seat, heater, radio, fan, fire extinguisher, reversing camera, and optional air conditioning; joystick, optional hydraulic quick hitch, multiple optional loader attachments, top beacon, optional Cummins engine with EPA Tier 4
1. Adopting hydraulic-mechanical transmission that can make the best use of engine power, realize automatic continuously variable transmission according to the external resistance, avoid engine stall due to the sudden increase in external load, and can also absorb and eliminate the vibration and shock of the external load to the engine to protect the transmission system and the engine and improve the service life of the whole machine, which make this ROPS wheel loader easy and comfortable to operate and have higher economical and production efficiency;
2. Adopting central articulated frame and load-sensing hydraulic steering gear that can make the track of rear wheels of the wheel loader coincide with the track of its front wheels when turning to make the turning radius short, which enables it to work on a narrow site and makes it have easy and flexible operation, safe and reliable performance, compact structure and easy maintenance;
3. Adopting four-wheel drive, low-pressure wide-base off-road tire and pendular rear axle that can make this 1.8Ton wheel loader have good off-road performance, trafficability and more traction;
4. Fully enclosed cab with adjustable and suspension seat can provide comfortable driving and wide view;
5. Using 20.5/70-16-14PR ultra-wide tyres to increase the stability of the whole machine;
6. Brake system adopts vacuum booster, air over hydraulic caliper disc brake on 4 wheels;
7. This 1.8 Ton loader with ROPS cab adopts ZL265 integrated/split torque converter, and the whole machine is fully hydraulic transmission;
8. This hydraulic wheel loader with 1.8 ton capacity can be optionally equipped with pilot control system (joystick) to make it easy to operate and increase the hydraulic performance of the whole machine;
9. Power system adopts WEICHAIHUAFENG ZHBG41 direct injection, environmentally friendly, 4-cylinder engine to make this articulated wheel loader have strong power and high acceleration, which greatly increase its high working efficiency;
10. This CE wheel loader with 1.8T capacity can be equipped with optional hydraulic quick hitch (quick coupler), and this quick hitch enables this 1800kg capacity compact wheel loader to change quickly among multiple attachments, such as hay grapple, grass grab, straw grapple, log grab, timber grapple, lumber fork, pallet fork, bale grapple, bale clamps, four-in-one bucket, multi-purpose bucket, straight snow blade, angle snow plow, diagonal snow plough V-shaped snow blade, snow bucket, V snow plow, folding snow plough, snow removal bucket, snow blower, sand spreading bucket, drum grab, barrel grapple, bucket broom, pick-up broom, street sweeper, angle broom, diagonal broom, and hydraulic flail mower, etc.
Main Technical Parameters:
1. Rated Load: 1800 kg
2. Total Weight: 4100 kg
3. Rated Bucket Capacity: 0.85 CBM
4. Max. Tractive Force: 40 KN
5. Max. Breakout Force: ≥ 43 KN
6. Max. Gradeability: 38°
7. Max. Dumping Height: 3100 mm
8. Max. Dumping Reach: 1000 mm
9. Raising Time: ≤ 5.0 s
10. Total Cycle Time: ≤ 9.5 s
11. Overall Dimensions (L x W x H) : 6500*1820*2800
12. Min. Turning Radius: 3200 mm
13. Engine Model: WEICHAI HUAFENG ZHBG41
14. Engine Type: Four-cylinder, Inline, Water-cooled, Four-stroke Diesel Engine
15. Engine Rated Power: 47 kW
16. Engine Rated Speed: 2400 rpm
17. Engine Min. Fuel Consumption Ratio: ≤ 258.4 g/kW•h
18. Transmission System: ZL265 Integrated/Split Hydraulic Torque Converter
19. Gear Shift: 1 Forward, 1 Reverse, 1 High Speed, 1 Low Speed
20. Max. Speed: 25 km/h
21. Model of Drive Axle: ZL16 Hub Reduction Axle (small)
22. Wheel Tread: 1480 mm
23. Wheel Base: 2150 mm
24. Drive Mode: 4-wheel Drive
25. Hydraulic System Working Pressure: 20 Mpa
26. Fuel Tank Capacity: 90 L
27. Service Brake: Foot Pedal Vacuum Booster, Air Over Hydraulic Caliper Disc Brake on 4 Wheels
28. Parking Brake: Hand Lever Flexible Shaft Controlled Disc Brake
29. Tire Type Specification: 20.5/70-16-14PR
30. Front Tire Pressure: 0.40 Mpa
31. Rear Tire Pressure: 0.35 Mpa
We have various models of compact wheel loaders that can meet your different capacity needs. Any colors are available upon request.
All specifications and design characteristics are subject to change without prior notice.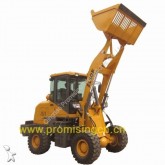 You are interested in this vehicle ?
Don't wait any longer, get in touch with the company Qingdao Promising International Co.,Ltd to know more right now !