Contact seller
+86.532.86.76.68.80
Send an email
Company Qingdao Promising International Co.,Ltd
Tianzhi Building, Qingdao
266555
QINGDAO
山东省
-
China
Characteristics - Wheel loader new Dragon Machinery n/a ZL18F
Loader Wheel loader
Equipment Dragon Machinery loader

Type of fast hitch
Hydraulic
Additional information Dragon Machinery ZL18F

Motor info
Engine Model: WEICHAIHUAFENG ZHBG41 Engine Type: Four-cylinder, Inline, Water-cooled Evaporative, Four-stroke Diesel Engine Rated Engine Power: 47kW Rated Engine Speed: 2400rpm Min. Fuel Consumption Rate: 258.4g/kW.h
Serial number
-
CO2 emissions
-
Cabin equipment
Car radio
Back-up alert
Seat suspension
Characteristics Dragon Machinery ZL18F

Number of hours
5 hours
Characteristics Dragon Machinery ZL18F

Power
64 HP
Weight
5.65 Tonnes
Motor

Engine range
-
Engine make
-
Tier norm
-
Stage norm
-
Engine power
-
Equipment Dragon Machinery loader
Auxiliary hydraulic circuit
Warning light
Equipment's condition
Bucket

Number of buckets
1
Bucket specifications
Rated Bucket Capacity: 0.85CBM Bucket Width: 1900mm
Tyres

Type of tyre
Notched
Condition and dimension of tyres
Brand new pneumatic tyre Tyre Type Specification: 16/70-20-16PR Front Tyre Pressure: 0.40Mpa Rear Tyre Pressure: 0.35Mpa
Notes
1.8 Ton small front loader, 1.8 T small front end loader, 1800kg front loader, 1800kg small loader, 1800kg small wheel loader, 1800kg compact loader, 1800kg front end loader, 1800kg small front loader, 1800kg compact front loader, CE approved 1.8T front wheel loader, CE certified 1.8 ton front end wheel loader, 1.8 ton articulated loader, 1.8T automatic transmission wheel loader, 1.8T wheel loader, 1.8ton wheel loader, 1.8 ton hydraulic wheel loader, 1.8 ton hydraulic loader, 1.8T compact wheel loader, 1800kg loaders, small wheel loaders, new compact wheel loader, 4WD wheel loader, 1.8T CE wheel loader, 1.8T front wheel loader, 1.8 Ton front loader, 1.8 Ton small loader, 1.8 Ton compact wheel loader, 1.8 Ton compact loader, 1.8Ton front end loader, 1.8 ton wheel loader with CE mark, CE front loader with 1.8T capacity, CE front end loader with 1.8 ton capacity, CE small loader with 1800kg capacity

1.8 ton capacity small front loader with enclosed tilt cabin, adjustable suspension seat, digital radio & MP3 player, reversing camera and top beacon; optional hydraulic joystick control, hydraulic quick hitch, and air conditioner

Hydraulic Wheel Loader ZL18F
Technical Specifications
1. Rated Load: 1800kg
2. Operating Weight: 5650kg
3. Rated Bucket Capacity: 0.85CBM
4. Bucket Width: 1900mm
5. Max. Breakout Force: 45KN
6. Max. Tilt Angle of Cabin: 30deg.
7. Max. Dumping Height: 2800mm
8. Max. Dumping Reach: 1050mm
9. Raising Time: < 5.0s
10. Min. Ground Clearance: 350mm
11. Overall Dimensions (L x W x H): 5600x1950x2750mm
12. Min. Turning Radius: 4600mm
13. Engine Model: WEICHAIHUAFENG ZHBG41
14. Engine Type: Four-cylinder, Inline, Water-cooled Evaporative, Four-stroke Diesel Engine
15. Rated Engine Power: 47kW
16. Rated Engine Speed: 2400rpm
17. Min. Fuel Consumption Rate: 258.4g/kW.h
18. Transmission Mode: ZL280 Integrated/Split Hydraulic Torque Converter
19. Gear Shift: 1 Forward, 1 Reverse, 1 High Speed, 1 Low Speed
20. Max. Speed: 25km/h
21. Mode of Axle: ZL16 Hub Reduction Drive Axle
22. Wheel Tread: 1500mm
23. Wheel Base: 2150mm
24. Drive Mode: 4-wheel Drive
25. Hydraulic System Working Pressure: 20Mpa
26. Hydraulic System Working Pump Type: Gear Pump
27. Service Brake: Foot Pedal Vacuum Booster, Air over Hydraulic Caliper Disc Brake on 4 Wheels
28. Parking Brake: Hand Lever Flexible Shaft Controlled Disc Brake
29. Tyre Type Specification: 16/70-20-16PR
30. Front Tyre Pressure: 0.40Mpa
31. Rear Tyre Pressure: 0.35Mpa

Note:
1. All photos are for reference only.
2. Machines shown may include optional parts.
3. All specifications and design characteristics are subject to change without prior notice.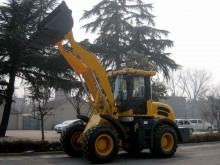 You are interested in this vehicle ?
Don't wait any longer, get in touch with the company Qingdao Promising International Co.,Ltd to know more right now !