Contactez le vendeur :
Send an email
Company Rickermann GmbH Nutzfahrzeughandel
Herberner Straße 35
48268
Greven
Nordrhein-Westfalen
-
Germany
Characteristics - Agricultural tipper used n/a
Harvest Agricultural tipper
Main information
Client ref. :
4745266
Website ref. :
3292677
Bodywork
Agricultural tipper
Make

n/a

Condition
used
Year
01/01/2018
Additional information
Serial number
-
Notes
LIGHT-Version gewichtsoptimierte Ausführung Gewichtsersparnis bis zu 150 Kg (ausstattungsabhängig) Bodenblech 3mm anstatt 4mm. Kein Stabilitätsverlust durch Verwendung hochfester Spezialstähle.
Bordwandhöhe 1500mm
Durchgehende Untenentriegelungswellen rechts + links mit 2 x Übertotpunktspanner an Stirnwand und 2 x Übertotpunktspannern hinten!
Seitliche Untenentriegelungshaken, beidseitig mit Gewindebuchsen
Vorrichtung zur Aufnahme abnehmbare Kippbrückenverlängerung hinten, über gesamte Fahrzeugbreite (2480mm B x 350mm L) OHNE Schütte
VERSTÄRKTER SPRIEGEL Aufsteckdreiecke vorne und hinten (300mm) + Mitteldreieck mit abklappbarem VERSTÄRKTEM Spriegelrohr, Durchmesser 70mm
Gelbe Abdeckplane mit Alu - Rollbrett, Handkurbel und seitlich abnehmbaren Anschlagstützen auf der LINKEN Seite
Halter Anschlagstützen montiert auf der rechten und linken Seite (montiert sind aber nur 2 Stützen). Außerdem Planhaken für Rollplane auf der rechten und linken Seite, damit die Rollplane nachträglich auch an der anderen Seite montiert werden kann.
Seitenbordwände horizontal geteilt mit Gummiabdichtsystem, nur einseitig auf der LINKEN Seite. Untere BW: ca. 850mm / obere BW: ca. 650mm
Rückwand horizontal geteilt mit Gummiabdichtsystem
Mittelunge komplett abklappbar und herausnehmbar, nur einseitig auf der RECHTEN Seite
Seitenbordwände zusätzlich als Portal von der Mitte ausgehend nach außen aufschwenkbar, inkl. einstellbarer Exzenterschrauben, auf der RECHTEN Seite
Automatische Anhängerkupplung inklusive Licht-, Luft- und Hydraulikanschluss für 2. Anhänger
Unterfahrschutz aus Rundrohr mit nach oben versetzter Beleuchtungseinrichtung
Betätigung Kippwerk 2. Anhänger mit separatem Hydraulikanschluß und Absperrhahn zur Zugmaschine
Maße:
• - Länge: 7.480mm,
• - Breite: 2.550mm,
• - Höhe: 3.160mm,
• - Bordwandhöhe: In Fahrtrichtung links + rechts 1.500mm,
Bereifung:
• - 1.Achse: Einzelrad,
• - 2.Achse: Einzelrad,
• - Reifengröße: 385/65R22,5
• - Profiltiefe in %: 90 %
Zwischenverkauf, Irrtümer und Tippfehler vorbehalten
Ville : 94574 Wallerfing, Allemagne
Livraison possible :
Statut du vendeur : Concessionnaire
Type : Remorque tribasculante
Vitesse maxi : 40 km/h
Matériaux de ridelle : Carton contrecollé
Pneumatiques : 385/65R22.5
Désignation de label de qualité : 1
Classement selon label de qualité : 1
Aspect visuel : 1
Etat mécanique : 1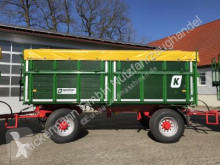 You are interested in this vehicle ?
Don't wait any longer, get in touch with the company Rickermann GmbH Nutzfahrzeughandel to know more right now !