Cargo van used Mercedes Classe V 250d Aut. DC Dubbel Cabine L3 XXL 2xElek.Schuifdeur/Standkachel/Stoelverw./Leder/Led/Navi/Cruise Diesel

Contact seller
+31.492.72.96.90
Company VAN DEN HURK BEDRIJFSWAGENS
Kanaaldijk Zuid West 7b
5706LD
HELMOND
Noord-Brabant
-
Netherlands
Seller on Via-Mobilis.com since 2 years
Characteristics - Cargo van used Mercedes Classe V 250d Aut. DC Dubbel Cabine L3 XXL 2xElek.Schuifdeur/Standkachel/Stoelverw./Leder/Led/Navi/Cruise Diesel
Van Cargo van
Tonnage

Empty weight
2.03 Tonnes
Total loaded weight
3.1 Tonnes
Load capacity
1.08 Tonnes
Cabin equipment
Heated seat
Electric windows
Air bag
Anti-theft
Car radio
Air conditioning
Central locking
GPS
Board computer
Electric rearview mirrors
Electric heated rearview mirrors
Characteristics Mercedes Classe V

Axles
4x2
Axles (Make)
Mercedes 4x2
Country (range)
NETHERLANDS
Energy
Diesel
Mileage
50 153 km
Engine size
1950 cc
Power
190 HP
Measurements

Wheel base
3.43 metres
Equipment Mercedes Classe V van
Additional information Mercedes 250d Aut. DC...

Gearbox
Automatic transmission
Number of seats
5
Cabin specifics Classe V

Cabin length
Double
Notes
🇬🇧 Information in English:
More options and accessories
Adaptive shock absorption system
Automatically dimming rear mirror
Automatic dimming exterior mirrors
Automatic parking
Bend lighting
Blind spot monitoring
Bumpers in colour of body
Bumpers in colour of body
Climate control
Door mirrors in colour of body
Driver's airbag
Driver drowsiness detection
Electrically folding door mirrors
Electrically operated front windows
Electrically operated tailgate
Electronic brakeforce distribution
Emergency braking assistance
Front central armrest
Front head airbags
Front parking sensors
Front side airbags
Heated seat
Heat reflecting glass
Immobiliser
Lane departure warning
Leather gearstick
Leather steering wheel
LED headlights
Metallic paint
Multimedia enabled
Outside temperature meter
Passenger airbag
Rear head airbags
Remote central locking
Sliding door
Sliding side door left
Sliding side door right
Telephone enabled with Bluetooth
Tyre pressure control
Vehicle heater
More information
General information
Type of body: Delivery van double cab
Model range: Jun 2018 - 2021
Registration number: MB-69-00

Technical information
Torque: 440 Nm
Number of cylinders: 4
Acceleration (0-100 kph): 9,1 s
Top speed: 204 km/h
Max. towing weight: 2.000 kg
length/height: L3H1

Condition
Number of keys: 2
🇩🇪 Informationen auf Deutsch:
Weitere Optionen und Zubehör
Adaptives Stoßdämpfungssystem
Aufmerksamkeitsassistent
Automatisch abblendende Außenspiegel
Automatisch gedimmter Innenrückspiegel
Außenspiegel in Karosseriefarbe
Außenthermometer
Beifahrerairbag
Elektrisch betriebene Kofferraumklappe
Elektrische Fensterheber vorn
Elektrisch einklappbare Außenspiegel
Elektronische Bremskraftverteilung
Fahrerairbag
Fernbediente Zentralverriegelung
Klimaanlage
Kopfairbags hinten
Kopfairbags vorn
Kurvenlicht
LED-Scheinwerfer
Lederlenkrad
Lederschaltknüppel
Metalliclack
Mittelarmlehne vorn
Multimediafähig
Notbremsassistent
Parkhilfe
Parksensoren vorn
Reifendruckkontrolle
Schiebetür
Seitenairbags vorn
Seitenschiebetür links
Seitenschiebetür rechts
Sitzheizung
Spurhalteassistent
Standheizung
Startunterbrecher
Stoßstangen in Karosseriefarbe
Stoßstangen in Karosseriefarbe
Telefon mit Bluetooth
Thermoglas
Tote-Winkel-Überwachung
Weitere Informationen
Allgemeine Informationen
Karosserieform: Lieferwagen Doppelkabine
Modellbereich: Jun 2018 - 2021
Kennzeichen: MB-69-00

Technische Informationen
Drehmoment: 440 Nm
Zylinderzahl: 4
Beschleunigung (0–100): 9,1 s
Höchstgeschwindigkeit: 204 km/h
Max. Zuglast: 2.000 kg
Länge/Höhe: L3H1

Zustand
Anzahl der Schlüssel: 2
🇳🇱 Informatie in het Nederlands:
Aanvullende opties en accessoires
Exterieur
Adaptief demping systeem
Buitenspiegel(s) automatisch dimmend
Buitenspiegels elektrisch inklapbaar
Buitenspiegels in carrosseriekleur
Bumpers in carrosseriekleur
Bumpers in kleur
Centrale deurvergrendeling met afstandsbediening
Elektrisch bedienbare achterklep
Elektrische schuifdeur
Elektronische remkrachtverdeling
Extra getint glas
Koplampen adaptief
LED koplampen
Metaalkleur
Parkeer assistent
Parkeersensor voor
Privacy glas
Schuifdeur 2x
Schuifdeur met ruit
Warmtewerend glas
Zijschuifdeur links
Zijschuifdeur rechts
Infotainment
Audio installatie premium
Autotelefoonvoorbereiding met bluetooth
Boordcomputer met stuurwielbediening
Multimedia-voorbereiding
Navigatie af fabriek
Navigatiesysteem full map
Rondomzicht camera
Interieur
Airco (automatisch)
Armsteun voor
Binnenspiegel automatisch dimmend
Buitentemperatuurmeter
Comfortstoel(en)
Comfort stoel 2x
Elektrische ramen voor
Lederen stuurwiel
Lederen versnellingspook
Leder stuur
Opklapbare stoelen
Standkachel
Voorstoelen verwarmd
Veiligheid
Airbag(s) hoofd achter
Airbag(s) hoofd voor
Airbag(s) side voor
Airbag bestuurder
Airbag passagier
Alarm klasse 1(startblokkering)
Bandenspanningscontrolesysteem
Brake Assist System
Dodehoek detector
Rijstrooksensor
Vermoeidheids herkenning
Overige
Bijzonderheden
Bomvolle en perfecte V-250 Lengte 3.
Van binnen en buiten in complete nieuwstaat.

Deze bus gaan wij ombouwen naar dubbel cabine en de prijs is daar ook op gebaseerd inclusief ombouw en rdw keuring.

Een kleine greep uit de lange optie lijst:
-2 elektrische schuifdeuren ( ook op afstand bediening te bedienen)
-Led koplampen
-Elektrische achterklep
-Stoel verwarming
-Standkachel origineel
-Navigatie
-Cruise

2 sleutels aanwezig.
Onderhoud over 192 dagen.

.
Meer informatie
Algemene informatie
Carrosserievorm: Bestelbus dubbele cabine
Modelreeks: jun 2018 - 2021
Kenteken: MB-69-00

Technische informatie
Koppel: 440 Nm
Aantal cilinders: 4
Acceleratie (0-100): 9,1 s
Topsnelheid: 204 km/u
Max. trekgewicht: 2.000 kg
Lengte/hoogte: L3H1

Interieur
Interieurkleur: Zwart

Staat
Aantal sleutels: 2
Bedrijfsinformatie
LET OP: Alle bedrijfswagens en personenbussen zijn excl. BTW (tenzij anders in benaming vermeld).

Aflevermogelijkheden: Om de wagen extra aantrekkelijk te maken werken wij (optioneel) met afleverpakketten, gezien dit per wagen kan verschillen lichten we dit graag nader toe, tevens kunt u ze nazien op />
Onze advertenties zijn met grote zorg samengesteld, op eventuele fouten of prijswijzigingen kunnen geen rechten worden ontleend. Wij adviseren u alvorens telefonisch contact op te nemen of de desbetreffende auto nog op voorraad is.


We hebben een snel doorlopende voorraad van minimaal 350 bedrijfswagens, dus wanneer uw auto momenteel niet aanwezig is kunnen we hem altijd nog binnen krijgen, vul uw zoekopdracht in op onze website bij "stock alert"!
Met onze 50 jaar ervaring kunnen wij u helpen met al uw behoeftes op bedrijfswagen gebied, nieuw of gebruikt!
Buiten verkoop hebben we ook: Inkoopmogelijkheden, scherpe leasetarieven en binnen 24 uur antwoord, complete werkplaats voor zowel personen/bedrijfs en vracht- wagens, schadeafdeling (ook spuiten van vrachtwagens mogelijk), complete poetsafdeling met wasstraat waar u ook terecht kunt voor het bijhouden van uw eigen wagenpark, autoverhuur met een huurvloot van gemiddeld 90 bedrijfswagens, autoverzekering, belettering en inrichting.


Bezoek voor meer informatie en onze huidige voorraad op:
Van den HURK Bedrijfswagens
Kanaaldijk Zuid West 7-B
5706 LD Helmond
The Netherlands
tel: +31 492 536 652
fax: +31 492 542 613
e-mail:
Référence parc : 14530686-AWD,
Année de construction : 2019,
Cylindrée : 1950cm³,
Nombre de roues motrices : 2,
Nombre d'essieux : 2,
Suspension d'essieu,
Nombre de places : 5,
Capacité : 1tonnes,
Capacité maximum : 1tonnes,
Capacité du réservoir : 75litres,
Essieu : Double,
Essieu : Double,
Nombre de ranchets : 5,
Airbag : Airbags frontaux et latéraux,
Caméra de recul,
Avertisseur de recul,
Bluetooth,
Lecteur mp3,
Accoudoirs,
Charge utile : 1.075tonnes,
Nombre de portes : 5,
Type de transmission : Automaat,
Poids : 2.025kg,
Anti démarrage,
Jantes alliage,
Vitres teintées,
Vitres électriques,
Volant muli-fonctions,
Entrée USB,
Capacité de chargement : 1075kg,
Tempomat,
Barre de toit,
Allumage des feux automatique,
Cruise control,
Système d'aide au parking,
Détecteur de pluie,
Type d'intérieur : Cuir,
Type de pneus : Simples,
Couleur : Noir,
Fourgon long,
Puissance du moteur : 140kW
See all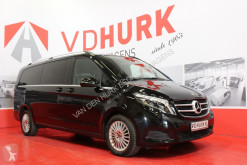 You are interested in this vehicle ?
Don't wait any longer, get in touch with the company
VAN
DEN
HURK
BEDRIJFSWAGENS
to know more right now !