Cargo van used Mercedes Sprinter 316 cdi bakwagenlaadklep Diesel rear hatch

Contact seller
+31.183.66.84.44
Company KLEYN VANS BV
Azewijnseweg 9
4214KC
Vuren
Gelderland
-
Netherlands
Seller on Via-Mobilis.com since 11 years
Characteristics - Cargo van used Mercedes Sprinter 316 cdi bakwagenlaadklep Diesel rear hatch
Van Cargo van
Tonnage

Load capacity
0.91 Tonnes
Empty weight
2.59 Tonnes
Total loaded weight
3.5 Tonnes
Options bodywork cargo van
Tyres

Condition and dimension of tyres
235/65R16,0
Cabin equipment
Electric windows
Air conditioning
Electric rearview mirrors
Additional information Mercedes 316 cdi...

Gearbox
Gear shift
Number of seats
3
Measurements

Wheel base
4.33 metres
Height
3.1 metres
Width
7.2 metres
Length
7.2 metres
Equipment Mercedes Sprinter van
Anti slip
ESP
Gearbox controller
ABS
Notes
🇬🇧 Information in English:
Number of axles: 2, Configuration: 4x2, Own weight: 2592 kg, Gross vehicle weight: 3500 kg, Suspension type: spring suspension, Cruise control, Airconditioning, Number of airbags: 1, Coloured windows, Electric windows, Electric mirrors, Drivers position: Left hand drive, Color: Anthracite, Engine capacity: 120 Kw (161 Hp), Fuel type: diesel, Euro: 6, Gearbox kind: Manual, Number of Gears: 6, Power steering, ABS, ASR, Back doors: taillift, Number of seats: 3, Seat cover: cloth, Taillift, Tail-lift kind: normal, Tail-lift capacity: 750 kg, Tail-lift make: Sörensen, Tail-lift material: aluminium, Tail-lift size: 160x208, Tail-lift voltage: 12, Bakwagen Laadklep Mbux Airco Euro6!
More information
Cab: day
Dimensions of cargo space: 438 x 205 x 211 cm
Tail lift: Sörensen, tail lift, 750 kg
Height of cargo floor: 93 cm
General condition: good
Technical condition: good
Visual appearance: good
Number of keys: 2
Registration number: 000rdw
Dealer information
Why buy at Kleyn Vans? The choice is easy!
Kleyn Vans is one of the largest independent traders of used vans in the world. You can choose from a continually changing stock of 600 used vehicles. Our range includes all European and Asian brands, model years and price categories. You will always find the vehicle you want for the right price!

Kleyn Vans offers:
• Sharp prices
• Good service
• Fast changing, big stock!
• Always sure about the quality!
• Trading expertise you can trust!
• Professional technical service.
• Guidance at import and transport.
• License plates quickly arranged.
• And more…

Visit our website at: and check out our complete stock and special offers!
🇩🇪 Informationen auf Deutsch:
Anzahl der Achsen: 2, Konfiguration: 4x2, Eigengewicht: 2592 kg, Bruttogewicht: 3500 kg, Federungstyp: Blattfederung, Tempomat, Klimaanlage, Anzahl Airbags: 1, Getönte Scheiben, Elektrische Fensterheber, Elektrische Spiegel, Position des Fahrers: Linksverkehr, Farbe: Anthrazit, Motorleistung: 120 kW (161 Hp), Kraftstoff: Diesel, Euro: 6, Getriebeart: Handschalter, Gänge: 6, Servolenkung, ABS, ASR, Verschluss hinten: Ladebordwand, Sitzplätze: 3, Sitzbezug: Stoff, Ladebordwand, Ladebordwandausführung: Heckklappe, Tragfähigkeit der Ladebordwand: 750 kg, Ladebordwandhersteller: Sörensen, Ladebordwandmaterial: Aluminium, Ladebordwandgröße: 160x208, Stromspannung der Ladebordwand: 12, Bakwagen Laadklep Mbux Airco Euro6!
Weitere Informationen
Kabine: Tag
Abmessungen des Laderaums: 438 x 205 x 211 cm
Ladebordwand: Sörensen, Heckklappe, 750 kg
Höhe der Ladefläche: 93 cm
Allgemeiner Zustand: gut
Technischer Zustand: gut
Optischer Zustand: gut
Anzahl der Schlüssel: 2
Kennzeichen: 000rdw
Firmeninformationen
Kleyn Vans ist weltweit eines der größten unabhängigen Handelsunternehmen für gebrauchte Kleintransporter. Sie finden bei uns einen ständig neuen Vorrat von etwa 600 gebrauchten Kraftfahrzeugen. Unser Sortiment umfasst alle europäischen und asiatischen Marken, Baujahre und Preisklassen.

Warum Sie bei Kleyn Vans kaufen? Einfach!

• Großer, sich schnell ändernder
• Erkennbare Qualität
• Ein guter Preis
• Korrekte Kaufmannschaft
• Wir sprechen viele Sprachen
• Wir verstehen unsere Kunden
• Betreuung von Einfuhr und Transport
• (Ausfuhr-)Kennzeichen sind schnell geregelt
• Fachkundige technische Dienstleistungen
• Die Sicherheit "erkennbarer Qualität"
• Und mehr....

Besuchen Sie bitte unsere Website für spezielle Angebote und vollständige Vorrat: />
🇳🇱 Informatie in het Nederlands:
Aantal Assen: 2, Configuratie: 4x2, Eigen gewicht: 2592 kg, Totaalgewicht: 3500 kg, Vering type: bladvering, Cruise control, Airconditioning, Aantal airbags: 1, Getint glas, Elektrische ramen, Elektrische spiegels, Chauffeurspositie: Linksrijdend, Kleur: Antraciet, Motorvermogen: 120 Kw (161 Hp), Brandstof: diesel, Euro: 6, Soort versnellingsbak: Handgeschakeld, Versnellingen: 6, Stuurbekrachtiging, ABS (Anti Blokkeer Systeem), ASR (Anti Slip Regeling), Achtersluiting: achterklep, Zitplaatsen: 3, Stoelbekleding: stof, Laadklep, Soort laadklep: achtersluit klep, Capaciteit laadklep: 750 kg, Merk laadklep: Sörensen, Materiaal laadklep: aluminium, Plateau grootte: 160x208, Laadklep voltage: 12, Bakwagen Laadklep Mbux Airco Euro6!
Meer informatie
Algemene informatie
Cabine: dag
Kenteken: 000rdw

Functioneel
Afmetingen laadruimte: 438 x 205 x 211 cm
Laadklep: Sörensen, achtersluitklep, 750 kg
Hoogte laadvloer: 93 cm

Staat
Algemene staat: goed
Technische staat: goed
Optische staat: goed
Aantal sleutels: 2

Garantie
Garantie: Bedrijfsauto's tot 180.000 km en 8 jaar leveren wij met tot wel 2 jaar garantie, wanneer u kiest voor een afleverpakket waarbij wij van u de auto ook een servicebeurt mogen geven. Garantiewerk kunt u in overleg met onze snel beslissende 14-talige servicedesk bij u in de buurt laten uitvoeren. In tegenstelling tot bij andere adressen is deze garantie ook geldig als u door Europa rijdt of op vakantie bent. Naast garantie bent u bij ons zeker van de kwaliteit van uw aankoop! Elke bus wordt namelijk door ons TÜV-Nord gecontroleerde testcentrum op 22 punten op voorhand volledig geïnspecteerd. Er wordt gekeken hoe de bus zich verhoudt tot anderen van hetzelfde type met vergelijkbare kilometerstand en leeftijd. Dit levert een open in te zien testrapport op, waarin staat hoe de auto op dat moment verhoudingsgewijs scoort. Dit rapport plaatsen we standaard bij ieder voertuig bij ons op de website en daarnaast ligt het in de auto achter de voorruit. Aan de hand van de uitkomst van deze test wordt de prijs van de bus bepaald. Daarom kan het zijn dat twee op het oog dezelfde auto's van hetzelfde jaar of met dezelfde kilometerstand toch in prijs schelen. Juist om deze reden nodigen wij u ook van harte uit in de grootste bestelbusshowroom van Europa, gelegen centraal in Nederland. Elke auto is anders. Een ding is zeker: Uw volgende staat er zeker tussen: Wij luisteren naar uw verhaal.
Bedrijfsinformatie
Waarom u bij leaset of koopt?

U kiest voor professioneel geselecteerde bussen die wij aan dealers en eindgebruikers leveren.

We zijn van maandag t/m donderdag van 8 tot 19 uur geopend, vrijdag van 8 tot 17 uur en zaterdag van 9 tot 17 uur. Bel ons op 088-2243300 of mail en wij zoeken voor u.

Bestelbus.nl is de grootste onafhankelijke dealer in jong gebruikte gesloten bussen, bakwagens, koelers, vriezers, personenbussen, open bakken, kippers, pick-ups, huiven en chassis-cabines.
Met meer dan 650 vans vindt u altijd een bij uw situatie passende bedrijfsauto:
- Scherpe prijzen
- Merkonafhankelijke ervaren bedrijfswagenadviseurs
- Wij kopen uw auto graag in
- Soepele en snelle (starters)lease
- Tot 2 jaar garantie bij uw eigen dealer
- Open inzichtelijk TÜV-kwaliteitsrapport

U betaalt bij ons geen verplichte afleverkosten en elke auto is standaard voorzien van afleverpakket Base.
Kortom, bezoek of komt u zich centraal in Nederland aan Afslag 29 van de A15 op 20 minuten van Utrecht geheel vrijblijvend oriënteren. Goede koffie staat klaar!

Bestelbus.nl is onderdeel van de KLEYN Groep, die sinds 1919 ruim 100 jaar vertrouwd Trucks, Trailers, Vans en onderdelen wereldwijd levert.
Dimensions : 720 x 720 x 310 cm,
Référence parc : 282577,
Année de construction : 2019,
Nombre de roues motrices : 2,
Informations pneus ou train de chaînes : Tyre size: 235/65R16,0; Axle 1: Tyre profile left: 6.0 mm; Tyre profile right: 6.0 mm; Axle 2: Tyre profile left: 3.0 mm; Tyre profile right: 2.0 mm,
Relevage arrière,
Nombre d'essieux : 2,
Longueur totale : 7m,
Largeur hors-tout : 7m,
Suspension d'essieu,
Nombre de places : 3,
Capacité : 1tonnes,
Capacité maximum : 1tonnes,
Essieu : Double,
Essieu : Double,
Nombre de ranchets : 3,
Suspension : Mécanique,
Charge utile : 0.908tonnes,
Longueur de chargement : 4.38m,
Encombrement en hauteur : 3.1m,
Type de transmission : Mécanique,
Type de transmission : Handgeschakeld, 6 versnellingen,
Fourgon déménagement,
Poids : 2.592kg,
Frein à disque,
Vitres teintées,
Vitres électriques,
Longueur de chargement maximale : 4380mm,
Capacité de chargement : 908kg,
Tempomat,
Cruise control,
Anti-patinage,
Type d'intérieur : Autre,
Type de pneus : Simples,
Couleur : Noir,
Puissance du moteur : 120kW,
Longueur de la caisse : 438,
Largeur de la caisse : 205
Address :
Zeiving 12
Vuren - 4214KT
Nederland
See all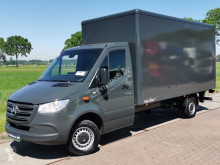 You are interested in this vehicle ?
Don't wait any longer, get in touch with the company
KLEYN

VANS

BV
to know more right now !