Farm tractor used Claas Arion 650 C-MATIC 01/01/2016 - 1798 heures - Ref. 24019-151003015898

Contact seller

+49 (0)515 67 85 53 9
Characteristics - Farm tractor used Claas Arion 650 C-MATIC
Farm tractor
Characteristics Claas Arion 650 C-MATIC

Number of hours
1798 hours
Tyres

Front tyres dimension
540/65 R28
Rear tyres dimension
650/65 R38
Additional information Claas Arion 650 C-MATIC

Motor info
-
Notes
Geschwindigkeit:50,
Steuergerät - Doppelt wirkend (4x),
Druckluftbremse,
Elektronische Hubwerksregelung (EHR),
Radio,
Lastabhängiger Zusatz-Hydraulikkreis (Power Beyond, Load Sensing),
Arbeitsscheinwerfer LED Ausführung
________
Zubehör
/Sonstiges:
6 Zylinder DPS Motor, 50 km/h, stufenlos Getriebe,
4 Zapfwellendrehzahlen 540/540 ECO, 1000/1000 Eco U/min,
Load Sensing Hydraulik mit 110 l/min, Power Beyond, druck-
loser Rücklauf, autom.AHK 38er Bolzen, höhenverstellbar
8-fach, Zugpendel m Kugel K80, hydrl.Oberlenker, 4 Steuer-
geräte doppelwirkend, FKH 4,0to doppelwirkend m Oberlenker
mech. mit Aussenbetätigung, 2 Steckanschlüsse vorne, 1 druck
loser Rücklauf, gefederte Vorderachse,Proaktiv, Zentral-
schmierung BEKAMAX, Druckluftbremsanlage 1 u 2 Kreis, Front-
Zapfwelle 1000 U/min, el.Rückspiegel beheizbar,Klimaautomat.
nicht GPS Ready
Maschine gebraucht/used!
151-003015898
Nombre d'heures du moteur : 1798,
Puissance du moteur : 135kW
Adresse:
Coppenbruegge - 31863
de
See all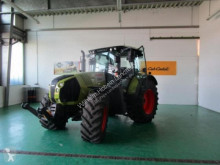 Interested in this ad?
Don't wait any longer, get in touch with the company Wilhelm Hobein Landtechnik to know more right now !