Mono temperature refrigerated semi-trailer used Krone Carrier Vector 1950 Doppelstock Trennwand Blumenbreit Liftachse 08/06/2013 - Ref. 70157832

Contact seller

Mr BAS World
Dutch
Polish
Italian
Spanish
Portuguese
German
Bulgarian
Ukrainian
Romanian
Croatian
International
Russian
Arabic
+31.413.75.42.46
Company BAS WORLD
Mac Arthurweg 2
5466 AP
Veghel
Noord-Brabant
-
Netherlands
Seller on Via-Mobilis.com since 9 years
Access to customer's website
Characteristics - Mono temperature refrigerated semi-trailer used Krone Carrier Vector 1950 Doppelstock Trennwand Blumenbreit Liftachse
Semi-trailer Refrigerated
Main information

Client ref. :
70157832
Website ref. :
7009705
Bodywork
Refrigerated
Under bodywork
Mono temperature
Make

Krone

Model
Carrier Vector 1950 Doppelstock Trennwand Blumenbreit Liftachse
Condition
Used
Date of first registration
08/06/2013
Country
NETHERLANDS
Manufacturer
Krone
Measurements

Width
2.6 metres
Length
14.04 metres
Tyres

Condition and dimension of tyres
385/65 R22.5
Tonnage

Load capacity
29.72 Tonnes
Empty weight
9.28 Tonnes
Total loaded weight
39 Tonnes
Equipment Krone semi-trailer
Notes
🇬🇧 Information in English:
More options and accessories
Cooling
Construction year cooling engine: 2012 (The construction year of the cooling engine.)
Cooling engine brand (The brand of the cooling engine.)
Cooling engine type (The type of the cooling engine.)
Temperature registration printer
With a printer it's possible to print the registered temperatures.
Superstructure
Flower width
Flower width or flower dimensions are special dimensions intended for the transport for flowers. But they can also be used for regular (refrigerated) transport.
Isolated
The vehicle or superstructure is isolated, and thus better protected from the elements.
Door opening width: 249
The total width of the door opening, and the maximum width of an object which will fit through the door.
Floor Material (The material of the floor.)
Material: aluminum (The material of the superstructure.)
Sliding wall (Sliding wall)
Superstructure construction year: 2013 (The construction year of the superstructure.)
Tie down rail
With tie-down rails it's possibly to secure the load of a vehicle safely, preventing it from moving whilst driving.
More information
Year of construction: 2013
Make axles: SAF 9 Ton Intradisc
Axle 1: Lift axle
Dimensions of cargo space: 1331 x 250 x 264 cm
Cooling engine: diesel and electric (10914 operating hours diesel)
Wall thickness: 5 mm
Dealer information
We recommend you to take a look at this vehicle on our Trusted Trade Platform. There, you'll find:
- A detailed HD inspection video
- 360-degree pictures
- Complete and checked specifications

Next to our online platform, you can also pay us a visit at our BAS World Store in Veghel, the Netherlands. We have over 1500 vehicles in stock from different brands, types, ages, and mileages.

Our sales price is based on a full payment within five working days.

BAS World is your way to go to sell or buy your new and used vehicles worldwide safely, easily, and with the ultimate level of trust. Our Trusted Trade Platform includes:
- Guaranteed and verified specifications with Checked Specifications
- Trusted delivery and guaranteed payment with Safe Deal
- Our Logistics & Documents Service to easily and quickly arrange the worldwide transportation of your vehicle.
- An excellent customer service. As we speak 13 languages, there's always someone that speaks your language.

In collaboration with BAS Tyres and BAS Parts, we can also offer you an extensive stock of tyres and parts.

Want to know more about all our services? Visit our website on />
🇫🇷 Informations en Français:

Plus d'options et d'accessoires

Construction
Fleur avec
La largeur des fleurs ou les dimensions des fleurs sont des dimensions spéciales destinées au transport des fleurs. Mais ils peuvent également être utilisés pour le transport régulier (réfrigéré).
Isoliert
Le véhicule ou la superstructure est isolé, et donc mieux protégé des éléments.
Année de construction de la superstructure: 2013 (L'année de construction de la superstructure.)
Largeur d'ouverture de porte: 249
La largeur totale de l'ouverture de la porte, et la largeur maximale d'un objet qui passera à travers la porte.
Matériau du sol (Le matériau de l'étage.)
Matériel: aluminum (Le matériau de la superstructure.)
paroi coulissante (paroi coulissante)
Rail d'arrimage
Avec des rails d'arrimage, il est possible de sécuriser la charge d'un véhicule en toute sécurité, l'empêchant de bouger pendant la conduite.
Refroidissement
Imprimante d'enregistrement de température
Avec une imprimante, il est possible d'imprimer les températures enregistrées.
Marque du moteur de refroidissement (La marque du moteur de refroidissement.)
Moteur de refroidissement année de construction: 2012
L'année de construction du moteur de refroidissement.
Type de moteur de refroidissement (Le type du moteur de refroidissement.)
Plus d'informations
Année de construction: 2013
Marque essieux: SAF 9 Ton Intradisc
Essieu 1: Essieu relevable
Dimensions espace de chargement: 1331 x 250 x 264 cm
Moteur frigorifique: diesel et électrique (10914 heures de fonctionnement diesel)
Épaisseur de paroi: 5 mm
Information sur la société
Nous vous recommandons de jeter un œil à ce véhicule sur notre Trusted Trade Platform. Vous y trouverez :
- Une vidéo d'inspection HD détaillée
- des images à 360 degrés
- Spécifications complètes et vérifiées

En plus de notre plateforme en ligne, vous pouvez également nous rendre visite dans notre BAS World Store à Veghel, aux Pays-Bas. Nous avons plus de 1500 véhicules en stock de différentes marques, types, âges et kilométrages.

Notre prix de vente est basé sur un paiement intégral dans les cinq jours ouvrables.

BAS World est votre chemin à parcourir pour vendre ou acheter vos véhicules neufs et d'occasion dans le monde entier en toute sécurité, facilement et avec le niveau de confiance ultime. Notre plateforme de commerce de confiance comprend :
- Spécifications garanties et vérifiées avec des spécifications vérifiées
- Livraison fiable et paiement garanti avec Safe Deal
- Notre Service Logistique & Documents pour organiser facilement et rapidement le transport mondial de votre véhicule.
- Un excellent service client. Comme nous parlons 13 langues, il y a toujours quelqu'un qui parle votre langue.

En collaboration avec BAS Tyres et BAS Parts, nous pouvons également vous proposer un vaste stock de pneus et de pièces détachées.

Vous voulez en savoir plus sur tous nos services ? Visitez notre site Web sur />
🇪🇸 Información en español:

Más opciones y accesorios

Carrocería
Aislado
El vehículo o superestructura está aislado y, por lo tanto, mejor protegido de los elementos.
Flor con
El ancho de la flor o las dimensiones de la flor son dimensiones especiales destinadas al transporte de flores. Pero también se pueden usar para el transporte regular (refrigerado).
Ancho de apertura de la puerta: 249
El ancho total de la abertura de la puerta y el ancho máximo de un objeto que se ajustará a través de la puerta.
Año de construcción de la superestructura: 2013 (El año de construcción de la superestructura.)
Material: aluminum (El material de la superestructura.)
Material del piso (El material del piso)
Pared corrediza (Pared corrediza)
Riel de amarre
Con rieles de amarre que es, posiblemente, para asegurar la carga de un vehículo con seguridad, evitando que se mueva durante la marcha.
Enfriamiento
Impresora de registro de temperatura
Con una impresora es posible imprimir las temperaturas registradas.
Marca motor de enfriamiento (La marca del motor de enfriamiento.)
Motor de enfriamiento del año de construcción: 2012 (El año de construcción del motor de enfriamiento.)
Tipo de motor de enfriamiento (El tipo de motor de enfriamiento.)
Más información
Año de fabricación: 2013
Marca de ejes: SAF 9 Ton Intradisc
Eje 1: Eje elevador
Dimensiones espacio de carga: 1331 x 250 x 264 cm
Motor de refrigeración: diésel y eléctrico (10914 horas de funcionamiento diésel)
Grosor del tabique: 5 mm
Información de la empresa
Le recomendamos que eche un vistazo a este vehículo en nuestra plataforma Trusted Trade. Allí encontrarás:
- Un video de inspección HD detallado
- Imágenes de 360 ​​grados
- Especificaciones completas y comprobadas

Junto a nuestra plataforma en línea, también puede visitarnos en nuestra BAS World Store en Veghel, Países Bajos. Tenemos más de 1500 vehículos en stock de diferentes marcas, tipos, edades y kilometraje.

Nuestro precio de venta se basa en un pago total dentro de los cinco días hábiles.

BAS World es su manera de vender o comprar sus vehículos nuevos y usados ​​en todo el mundo de manera segura, fácil y con el máximo nivel de confianza. Nuestra plataforma de comercio confiable incluye:
- Especificaciones garantizadas y verificadas con Checked Specifications
- Entrega confiable y pago garantizado con Safe Deal
- Nuestro Servicio de Logística y Documentación para organizar fácil y rápidamente el transporte mundial de su vehículo.
- Excelente servicio al cliente. Como hablamos 13 idiomas, siempre hay alguien que habla tu idioma.

En colaboración con BAS Tyres y BAS Parts, también podemos ofrecerle un amplio stock de neumáticos y piezas.

¿Quieres saber más sobre todos nuestros servicios? Visite nuestro sitio web en />
🇳🇱 Informatie in het Nederlands:

Aanvullende opties en accessoires

Koeling
Koelmotor
Bouwjaar koelmotor: 2012 (Het bouwjaar van de koelmotor.)
Koelmotor merk (Het merk van de koelmotor.)
Koelmotor type (Het type van de koelmotor.)
Temperatuurregistratie printer
Met een printer is het mogelijk om de geregistreerde temperaturen af te drukken.
Opbouw
Bloemenbreed
Bloembreedte of bloemafmetingen zijn speciale afmetingen die zijn bedoeld voor het transport van bloemen. Maar ze kunnen ook worden gebruikt voor regulier (gekoeld) transport.
Geïsoleerd
Het voertuig of de opbouw is geïsoleerd en dus beter beschermd tegen de elementen.
Bindrails
Met bindrails is het mogelijk om de lading van een voertuig veilig te beveiligen, zodat het tijdens het rijden niet kan bewegen.
Bouwjaar opbouw: 2013 (Het bouwjaar van de opbouw.)
Deuropening breedte: 249
De totale breedte van de deuropening en de maximale breedte van een object dat door de deur past.
Materiaal: aluminum (Het materiaal van de opbouw.)
Materiaal vloer (Het materiaal van de vloer.)
Schuifwand (Schuifwand)
Meer informatie
Constructiejaar: 2013
Merk assen: SAF 9 Ton Intradisc
As 1: Liftas
Afmetingen laadruimte: 1331 x 250 x 264 cm
Koelmotor: diesel en elektrisch (10914 draaiuren diesel)
Wanddikte: 5 mm
Bedrijfsinformatie
Wij raden u aan om dit voertuig op ons Trusted Trade Platform te bekijken. Hier vindt u:
- Een gedetailleerde HD inspectievideo
- 360 graden foto's
- Complete en gecontroleerde specificaties

Naast ons online platform kunt u uiteraard ook bij ons langskomen in onze BAS World Store in Veghel. Wij hebben meer dan 1500 voertuigen op voorraad met allerhande merken, types, leeftijden en kilometerstanden.

Onze verkoopprijs is gebaseerd op een volledige betaling binnen vijf werkdagen.

BAS World is hét platform om overal ter wereld veilig, snel en met het hoogste vertrouwensniveau uw nieuwe of tweehands voertuigen te kopen en te verkopen. Ons Trusted Trade Platform biedt u onder andere:
- Gegarandeerde en geverifieerde specificaties met Checked Specifications
- Veilige betaling en gegarandeerde levering met Safe Deal
- Onze Logistics & Documents Service om snel en gemakkelijk het wereldwijde transport voor uw voertuig te regelen.
- Een uitstekende én 13-talige klantenservice. Er is dus altijd iemand beschikbaar die u snel en in uw eigen taal kan helpen.

Daarnaast hebben wij, in samenwerking met BAS Parts en BAS Tyres, ook een uitgebreid assortiment banden en onderdelen uit voorraad leverbaar.

Meer weten over al onze mogelijkheden? Bezoek onze website op />
🇩🇪 Informationen auf Deutsch:

Weitere Optionen und Zubehör

Aufbau
Blume mit
Blumenbreite oder Blumenmaß sind spezielle Abmessungen, die für den Transport von Blumen bestimmt sind. Sie können aber auch für den normalen (gekühlten) Transport verwendet werden.
Isolé
Das Fahrzeug oder der Aufbau ist isoliert und somit besser vor den Elementen geschützt.
Aufbau Baujahr: 2013 (Das Baujahr des Aufbaus.)
Material: aluminum (Das Material des Aufbau.)
Material des Bodens (Das Material des Bodens.)
Schiebewand (Schiebewand)
Türöffnungsbreite: 249
Die Gesamtbreite der Türöffnung und die maximale Breite eines Objekts, das durch die Tür passt.
Zurrschiene
Mit Sicherungsschienen ist es möglich, die Ladung eines Fahrzeugs sicher zu sichern und zu verhindern, dass es sich während der Fahrt bewegt.
Kühlung
Baujahr Kühlmotor: 2012 (Das Baujahr der Kühlmaschine.)
Kühlmaschine Marke (Die Marke der Kühlmaschine.)
Kühlmaschinentyp (Der Typ der Kühlmotor.)
Temperaturregistrierungsdrucker
Mit einem Drucker können die registrierten Temperaturen gedruckt werden.
Weitere Informationen
Konstruktionsjahr: 2013
Marke Achsen: SAF 9 Ton Intradisc
Achse 1: Liftachse
Abmessungen des Laderaums: 1331 x 250 x 264 cm
Kühlmotor: Diesel und elektrisch (10914 Betriebsstunden Diesel)
Wandstärke: 5 mm
Firmeninformationen
Wir empfehlen Ihnen, sich dieses Fahrzeug auf unserer Trusted Trade Platform anzusehen. Dort finden Sie:
- Ein detailliertes HD-Inspektionsvideo
- 360-Grad-Bilder
- Vollständige und geprüfte Spezifikationen

Neben unserer Online-Plattform können Sie uns auch in unserem BAS World Store in Veghel, Niederlande, besuchen. Wir haben über 1500 Fahrzeuge verschiedener Marken, Typen, Alter und Laufleistung auf Lager.

Unser Verkaufspreis basiert auf einer vollständigen Zahlung innerhalb von fünf Werktagen.

BAS World ist Ihr Weg, um Ihre Neu- und Gebrauchtfahrzeuge weltweit sicher, einfach und mit höchstem Vertrauen zu verkaufen oder zu kaufen. Unsere vertrauenswürdige Handelsplattform umfasst:
- Garantierte und verifizierte Spezifikationen mit geprüften Spezifikationen
- Vertrauenswürdige Lieferung und garantierte Zahlung mit Safe Deal
- Unser Logistik- und Dokumentenservice, um den weltweiten Transport Ihres Fahrzeugs einfach und schnell zu organisieren.
- Ein ausgezeichneter Kundenservice. Da wir 13 Sprachen sprechen, gibt es immer jemanden, der Ihre Sprache spricht.

In Zusammenarbeit mit BAS Tyres und BAS Parts können wir Ihnen auch ein umfangreiches Lager an Reifen und Teilen anbieten.

Möchten Sie mehr über alle unsere Dienstleistungen erfahren? Besuchen Sie unsere Website unter
Année de construction : 2013,
Référence parc : 70157832,
Frigo,
Informations pneus ou train de chaînes : Tyre size: 385/65 R22.5; Axle 1: Tyre profile left: 70%; Tyre profile right: 70%; Axle 2: Tyre profile left: 20%; Tyre profile right: 20%; Axle 3: Tyre profile left: 20%; Tyre profile right: 20%,
Nombre d'essieux : 3,
Longueur totale : 14m,
Largeur hors-tout : 3m,
Câble et treuil : true,
Suspension d'essieu,
Température dirigée,
Treuil,
Capacité : 30tonnes,
Capacité maximum : 30tonnes,
Suspension : Pneumatique,
Système de réfrigération : true,
Charge utile : 29.723tonnes,
Longueur de chargement : 13.31m,
Poids : 9.277kg,
Frein à disque,
Longueur de chargement maximale : 13310mm,
Capacité de chargement : 29723kg,
Marque de la semi-remorque : Krone,
Type d'intérieur : Autre,
Type de pneus : Simples,
Couleur : Blanc,
Longueur de la caisse : 1331,
Largeur de la caisse : 250
See all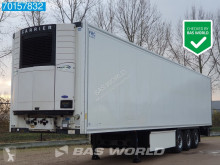 You are interested in this vehicle ?
Don't wait any longer, get in touch with the company
BAS
WORLD
to know more right now !